OHD Home
History
Parade Stats
Save the Date!
Old Home Days 2020:
July 31 - August 1, 2, 3
Suggestions for parade themes may be emailed to chdbob@canaannh.org
---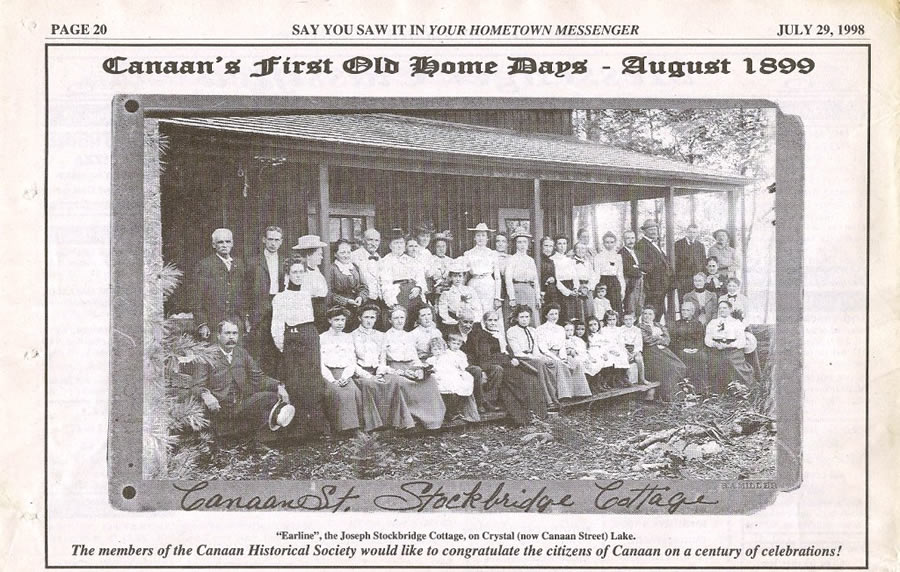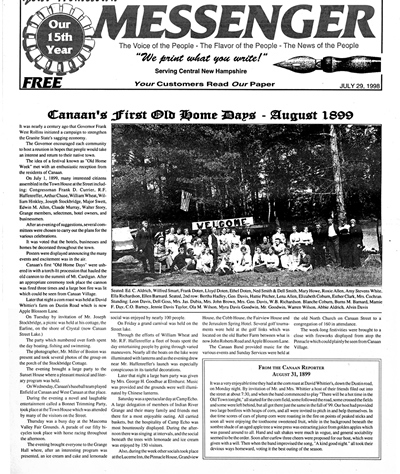 The idea of "Old Home Week" in New Hampshire was begun in 1899 by Governor Frank West Rollins. Eventually, many towns shortened this to "Old Home Days," but continued in the tradition of celebrating the history and community spirit of individual towns.
Canaan Old Home Days are celebrated on the first weekend in August each year. Beginning in 1984, the official Canaan Old Home Days Committee was established which now leads us in fun and festivities every year. We thank all who participate in the committee and the events. Your work keeps us connected!

Learn more about the first Canaan Old Home Days in this 1998 Messenger newspaper article.


Postcards of Early Canaan Old Home Days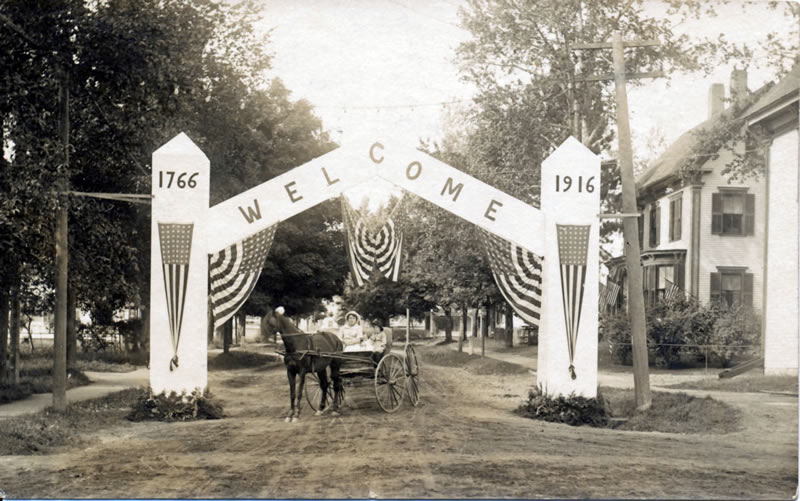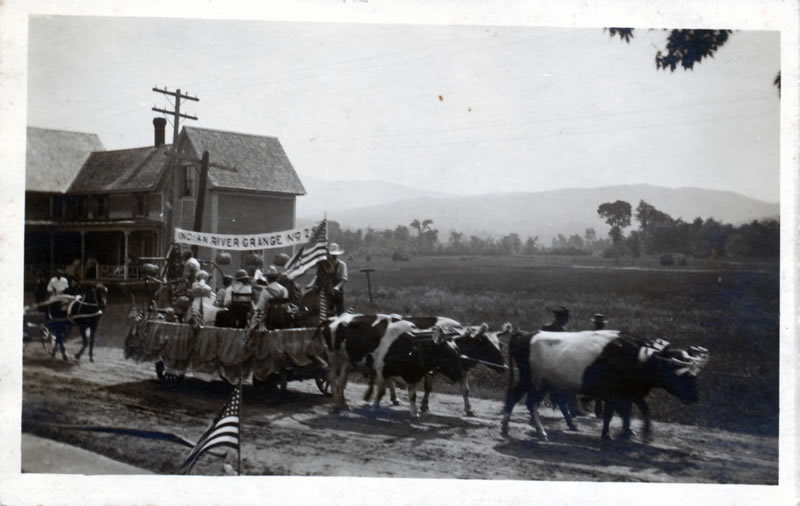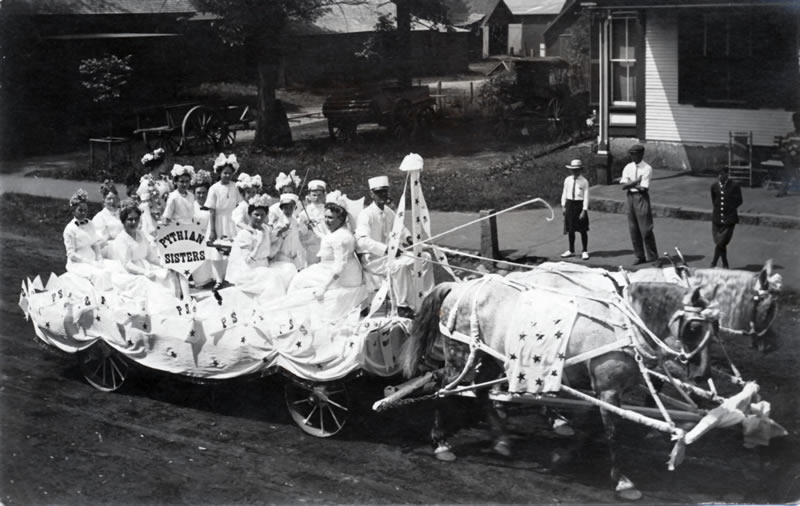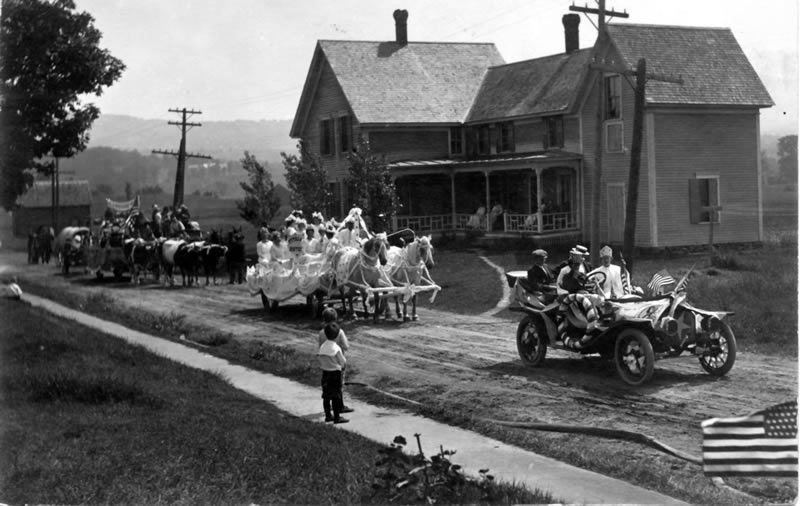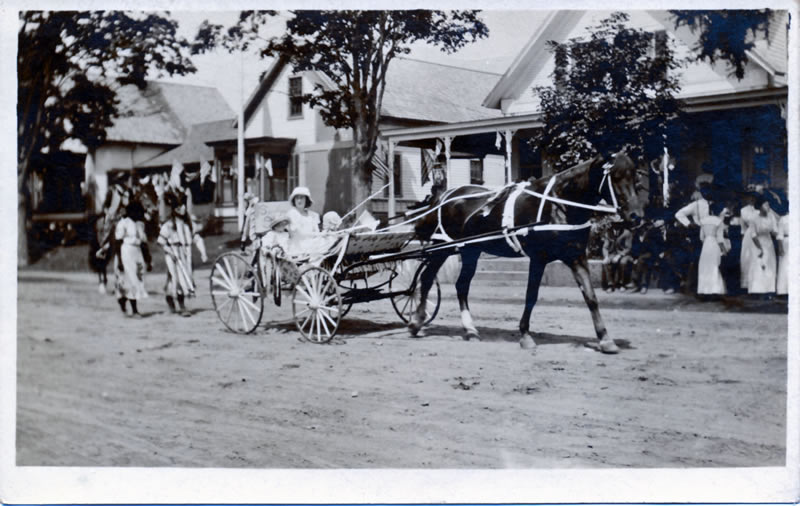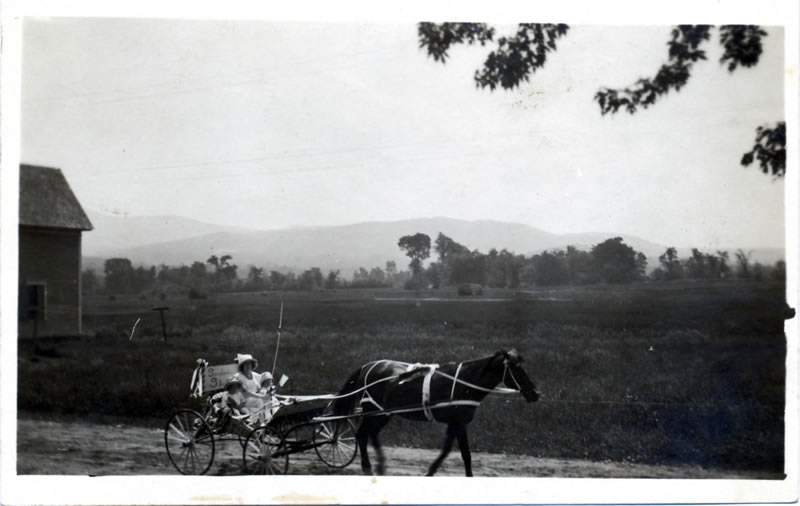 | Year | Theme | Marshals |
| --- | --- | --- |
| 2016 | Circus | John & Chris Dow |
| 2015 | The 50's & 60's | Bob & Debbie LaCroix |
| 2014 | Glory Days of the Rail Road | Harry & Audie Armstrong |
| 2013 | Ship Ahoy! | Marvin & Helen Rocke |
| 2012 | School Days of Yesteryear | Debbie Tenney, Dan Fleetham Sr & Grace Stebbins |
| 2011 | 250 Years of Old Home Days Past & Present | The parade was led by many of the past marshals from as far back as 1984 |
| 2010 | Planet Earth | Nelson & Maxine Therriault |
| 2009 | Wild Animals | Ruth Tucker & Helen Good earl |
| 2008 | Comics | Dr. Henry & Patricia Brown |
| 2007 | Cartoons | Milton & Elsie Wilson |
| 2006 | Celebrating 25 Years of Old Home Days | Georgia Tilton & John Q. Ricard |
| 2005 | Country Fairs of the Past | Jackie & Ed Lary |
| 2004 | States | Georgia Tilton & Elinor Wescott |
| 2003 | Mardi Gras | Darwin & Vivian Hadley |
| 2002 | America the Beautiful | Dot & Ralph Dow |
| 2001 | Circus-Circus | Nancy Snyder & Marty Pusey |
| 2000 | Disney & New Millennium | Mickey & Minnie Mouse (Butch & Ellen Rocke) |
| 1999 | Looking Back 100 Years | Reginald & Eleanor Barney |
| 1998 | Fifties & Sixties | Kathryn Carlson & Sybil Gambell |
| 1997 | Wild World of Sports | Douglas Belloir & Guy Serviss |
| 1996 | Commercials | Paul & Zilla Tucker |
| 1995 | Holidays | Mary Hazen & Marjorie Eastman |
| 1994 | Circus | Smokey Bear |
| 1993 | Old Wild West | Verna Dunn & Zephryn Clarke |
| 1992 | Holidays | Dana & Esther Christy |
| 1991 | Nursery Rhymes | Birthday Cake - 10 Years |
| 1990 | Fifties & Sixties | Daniel & Betty Fleetham |
| 1989 | Wonderful World of Disney | Dr. Israel A. Dinerman |
| 1988 | Country & Western | Addie Hines |
| 1987 | U.S. Constitution | Dorothy Ricard |
| 1986 | Children's Stories | Charles Clifford |
| 1985 | Board Games | Olive Smith |
| 1984 | Fairy Tales | Henry & Roxie Gould |