Canaan Village Spring Spruce Up Day 2020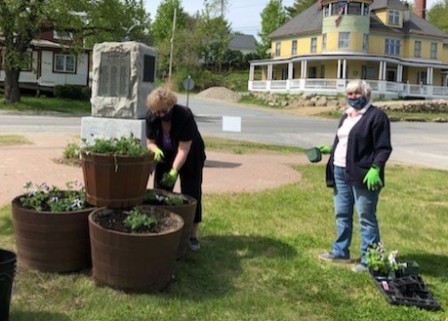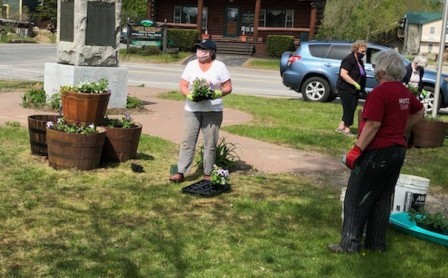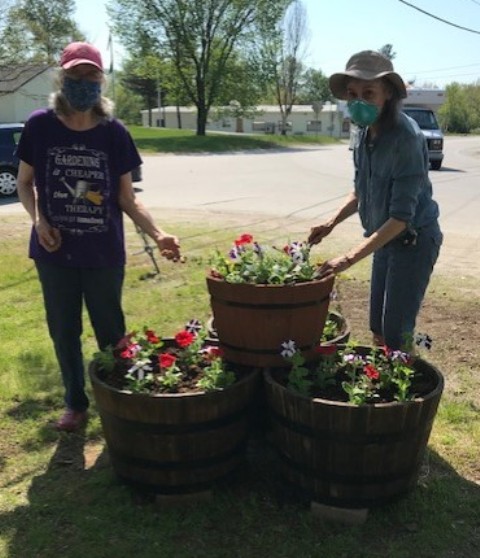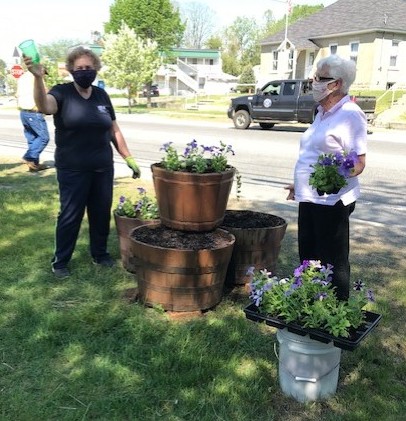 Cannan Village Spring Spruce-Up Day 2018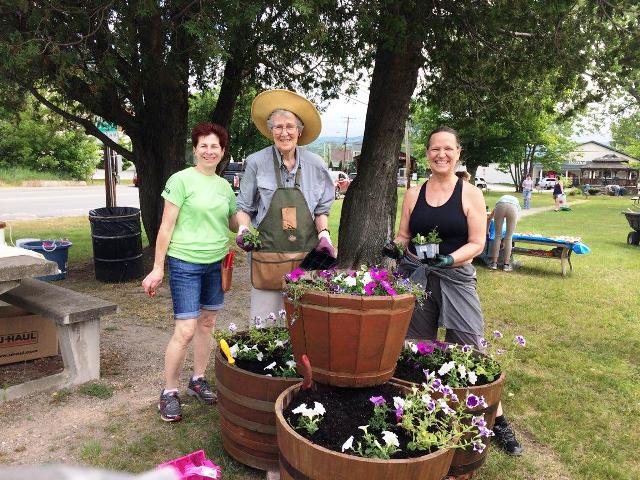 On Saturday, June 2, 2018 the Friends of Canaan Village held an amazingly successful Spring Spruce Up Day. Their efforts resulted in cleaned up lots and gardens all over the downtown area. We would like to thank the many people who took time from their Saturday to help sweep, pull weeds, plant flowers, spread mulch, run a bake sale, and give encouragement. It was a great day for friends to meet and work together.
Special thanks go out to the following for their contributions that made the day an outstanding success:
Evans Mart
Canaan Hardware
Matt Dow of MTD Property Maintenance
Boy Scout Troop 44
Duck Soup Catering
You're Beautiful Salon & Day Spa
F C Hammond
American Legion
Friends of the Canaan Town Library
Friends of Mascoma
Jeff Majewski, owner of the Laundromat Building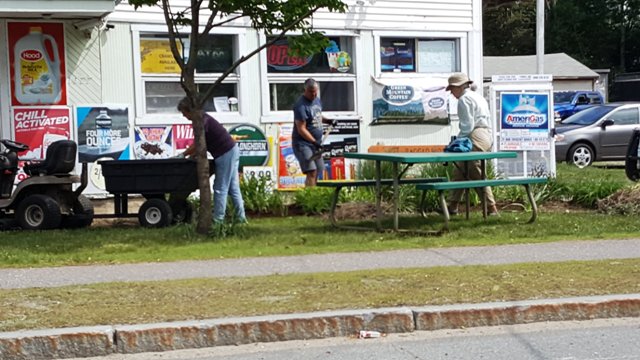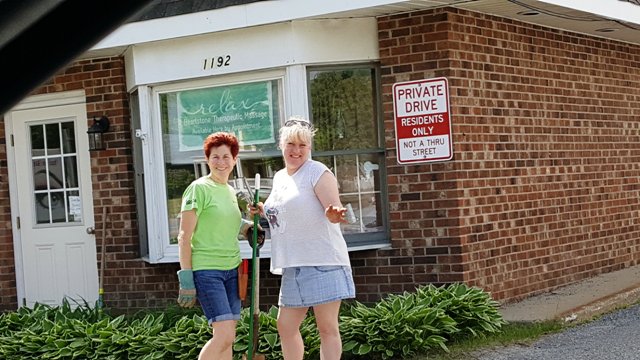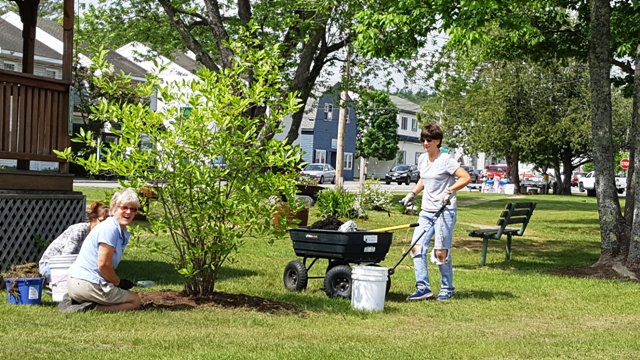 2017 Directory
The Friends of Canaan Village has updated its Directory of Businesses, Services, and Information for the Town of Canaan. The Directory has on-line and print versions. Print versions are available at the Town Office, Library, Mascoma Bank, Canaan Hardware, Barney Insurance, and Granite Northland.
Mascoma Savings Bank has donated $500 toward the printing of the new Canaan Directory. We are very grateful for their generous support of this project.
Since 1997, Friends of Canaan Village has been producing Canaan directories as a public service to the community. This edition will be the seventh.
Thank You, Mascoma Community Health Center!
The Friends of Canaan Village recently donated $500 to the Mascoma Health Community Health Center. We are so happy to see the Center's usage grow!
Thank You, Brundage Foundation!
The Friends of Canaan Village has received a $1,000 grant from the Brundage Foundation to be used for the 2018 Concerts on the Common series.
Dedication of Reginald E. Barney Depot Park
Depot Park, a lovely treed area, which borders the Indian River, is situated at the end of Depot Street. For almost twenty years, Reggie Barney has been taking care of Depot Park, under the auspices of Friends of Canaan Village. In recent years, when Reggie could no longer mow the park himself, FOCV has paid to have it mowed. Friends are pleased that, beginning this summer, the Town will take over the mowing.
On Sunday, August 7, 2016 a ceremony was held at the park to honor Reggie's long stewardship of this public green space. It was well attended by family, friends, and towns people. Depot Park will now be known as the: Reginald E. Barney Depot Park. A sign with this new name will be installed.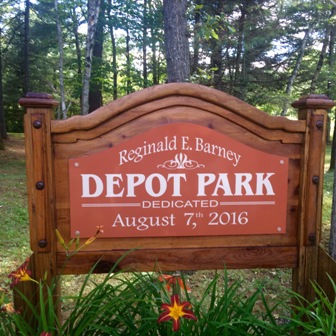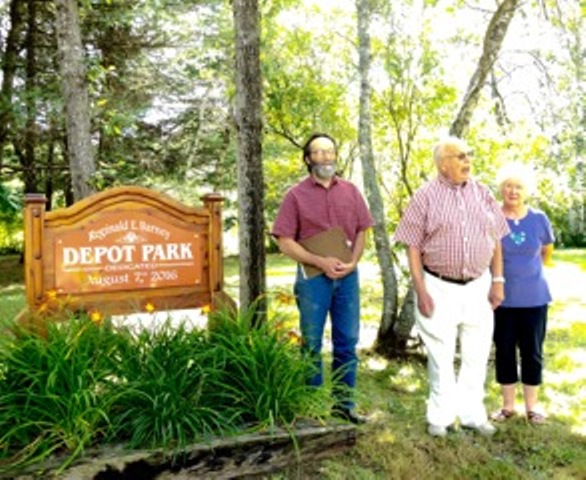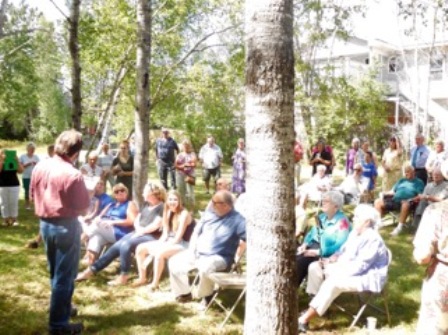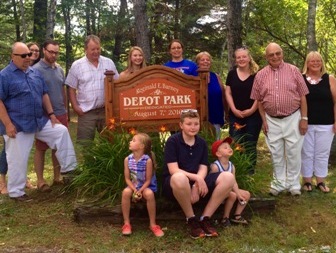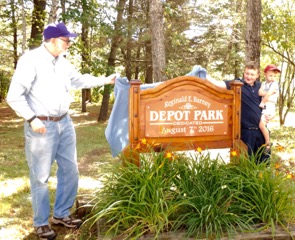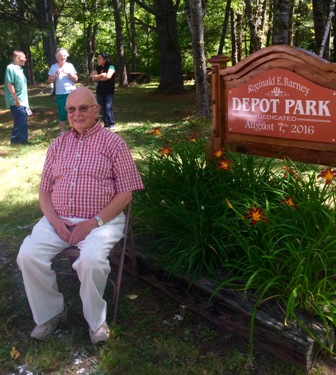 A New Old Sign in Downtown Canaan, NH, and a link to a Lebanon Industry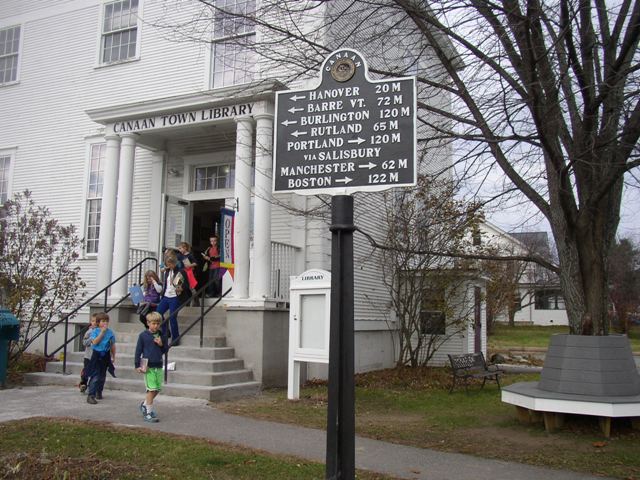 A handsome old road sign that shows mileage east and west from downtown Canaan, NH, has been restored and placed at the crossroads of Route 4 and Canaan Street. Stamped "Lebanon Foundry", the sign offers a glimpse into information that was important for travelers in the past and into one of Lebanon's early 20th Century industries.
The old sign was an unexpected discovery for Dale and Bobbie Barney when they cleaned out a relative's garage last year. They gave the sign to Friends of Canaan Village, Inc. and the organization worked with the Town of Canaan to have the sign and post mended and restored by noted blacksmith Dimitri Gerakaris. Ken Lary was instrumental in saving the sign, transporting it from the Barneys to the blacksmith's shop. Bob Scott, Road Agent, installed it this fall in a location that seemed to make the best sense, given the directions and mileages stated.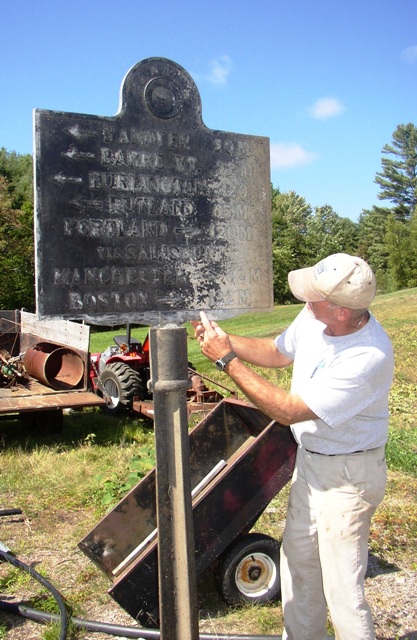 The sign, topped by a version of the NH State seal, adds an intriguing element to the corner. Offering much more information than a simple sign directing drivers to I-89, this marker identifies distances to Portland, ME, Burlington, VT and Boston, MA, and also gives mileage to Rutland and Barre, VT, which must have been important destinations for travelers through Canaan when the marker was new.
Early directional signs in Canaan show up in photos from the 1890s on, and are clearly visible as survivors in photographs taken just after the 1923 fire that leveled the village center. The original location and date of installation, though, is still a mystery. "I've searched through everything that the Canaan Historical Society has and through private collections of local historical photographs," said Donna Zani Dunkerton, Canaan's Town Historian, "and haven't found a photo showing this sign in its original place."
Perhaps a reader will know of a photo or other information that will provide clues.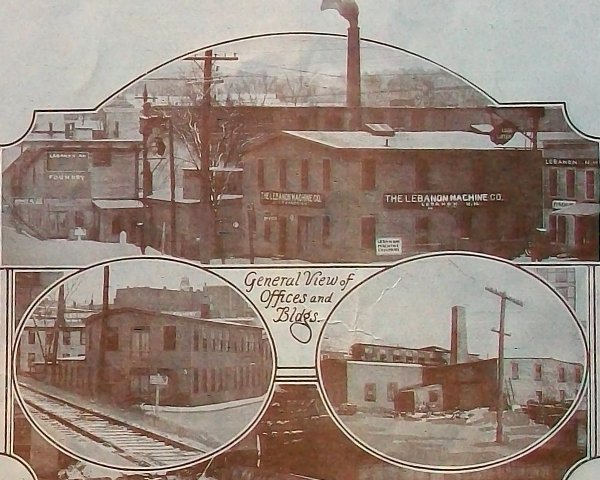 On its reverse the sign is stamped "Lebanon Foundry" and was most likely produced by the Lebanon Machine Company, active from 1916 into the1920s. A company brochure provided by Ed Ashey, Lebanon Historical Society curator, features a photo showing the Machine Company (located where the NAPA store is now in downtown Lebanon) and its Lebanon Foundry in the building that now houses Mason Racing.
The brochure advertised that the foundry produced street signs and "guide boards" throughout New England and included the New Hampshire State Highway Department among their many customers. Lebanon Foundry's "Leb-Iron" signs were purchased by towns from Maine to Missouri and were used to mark State lines along the Lincoln Highway.
Friends of Canaan Village, Inc.
"Friends in Deeds"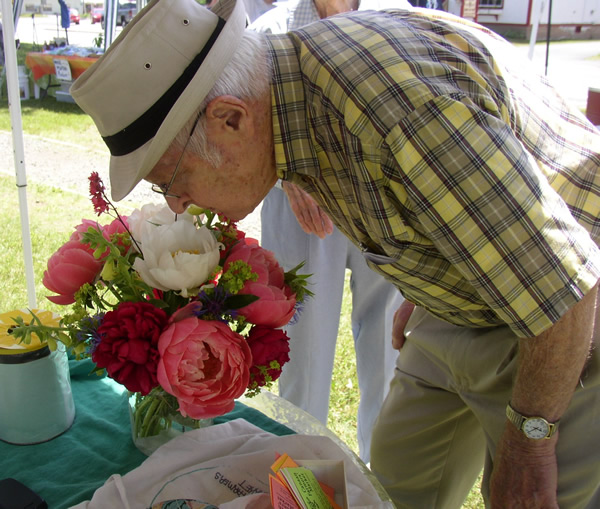 As its name implies, Friends of Canaan Village, Inc. is dedicated to supporting Canaan's Village center, also known as the Downtown.
Mission
To create a safe, vital, attractive, and welcoming village center through civic projects and activities and, thereby, to benefit the entire community.


Membership
Membership is open to all Canaan residents, and to non-residents as well, who support its mission.

Members are not required to attend meetings. Any level of involvement is very welcome, starting with simply paying dues ( whatever amount a member wishes to give). We are hoping to expand our membership. If you are interested in joining Friends, come to a meeting and learn more.


Ongoing Activities, Projects, and Support of Civic Enterprises
Canaan Business and Services Directory
Old Home Days Participation
Ice Cream Sales at the weekly summer concerts
Financial Support for the Lions' Club Summer Bandstand "Concerts in the Park" and for the Playground
Downtown Safety and Beautification
Downtown Revitalization Project maintenance
Spring Plantings
Maintenance of Depot Park
Holiday Lights and Decorations
David O. Cushman Winter Golf Tournament
Cooperation with other town committees and groups
Assist with Conservation Committee's Spring Roadside Clean-up
Highlights of 2017 Activities
Sponsored Ginger Bread House Contest - Thanks go out to Stella Butterfield, Maxine, Therriault, and Cindy Neily for all their help on this
Held Annual Meeting with lovely finger foods
Contributions made to the Senior Center and the Mascoma Community Health Center
Planned and researched with the Canaan Select Board the costs of repainting the Gazebo on the Green
Installed a new slate of officers
2019
Flowers on the Green






Icecream at the Lions' Concerts


Meetings with Local Businesses



Bench Restoration at the Canaan Green