GCSCC Info
Program Information
Food Pantry
Mascoma Area Senior Center is a Program of the
Grafton County Senior Citizens Council: GCSCC Home

Serving the Communities of:
Canaan, Enfield, Dorchester, Orange, Grafton.
Temporarily Closed The staff is available for phone calls and Meals-on-Wheels will still be running.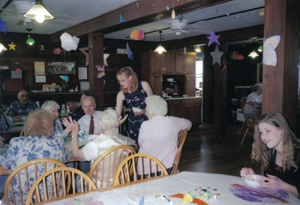 The Mascoma Area Senior Center is located in the former Indian River Grange Hall, a beautiful historic building in the heart of downtown Canaan.

The building has space for special activities as well as for the congregate dinners. To find out about activities, events and the lunch menu click the Program Information tab above or you can view the newsletters from the links to the left. Meals are served weekdays as 11:50 in the Center dining room. A trained outreach worker is available by appointment to help individuals with their unique needs. The center's lift-equipped van provides transportation to the center or to appointments and shopping by calling at least 24 hours in advance. The Center offers a food pantry by appointment to all residents of the five town area of Canaan, Enfield, Dorchester, Orange and Grafton.
Standard GCSCC Services:
Activities, Programs, and Clinics
Chore Corps
Community Outreach
Congregate Meals
Home Delivered Meals
Transportation
Telephone Reassurance
Volunteering
---
These programs are temporarily cancelled except for Meals-on-Wheels.
Ongoing Programs
Congregate Meal Program: Lunch served at 12:00 Monday through Friday. Suggested donation $3.00 age 60 and over; $7.00 cost, age 59 and under.


Transportation: Rides to the Center for an appointment, activity or lunch. For medical transport appointments, please call to schedule in advance. $1.50 donation is requested or a ride under 5 miles; $2.00 for a ride from 6-10 miles; $3.00 for a ride from 11-20 miles; $5.00 for a ride of 21 miles or more.


Shopping in Lebanon on Fridays. Call to reserve a seat.


Home delivered Meal Program: Delivery Monday through Friday. Please call for information. Frozen meals may be delivered during the week for weekends.


Foot Clinic/ Ask a Nurse: First Wednesday of the month. Call the Center to schedule an appointment with the Visiting Nurse's Association/Lake Sunapee nurse. Bring a towel. $20.00 per person. Diabetic and non-diabetic. Ask a nurse 11:45 AM.


Bone Builders: Monday and Thursday: 8:30 AM. Call RSVP to join. 603-448-1825


Blood Pressure check: Monday 11:30 AM. Free


New CARD GROUP: Second and fourth Tuesday after lunch. All are welcome. Come for lunch and stay for the games!


Bingo: Wednesday after lunch ( .25/card) Age 60 and over.


Bingo for Baubles: Second Tuesday after lunch. Bring an item to share and join in the fun!


Cribbage: First and third Tuesdays after lunch. 12:30. All welcome, whether you know how to play or not! Or bring any board game and a friend! Join in the fun!


Raffle: Wednesday. Thanks to all of you who support the Center by donating items and baked goods.


Food raffle: Tickets 50 cents each. 50/50 : 3 tickets for $1.00


Food Pantry: Available by appointment to residents of Canaan, Orange, Enfield, Grafton and Dorchester.


Chore Corp: Volunteers who can help with occasional household chores or small repairs. Toll free: 1-877-711-7787.


ServiceLink: Call toll free: 1-866-634-9412 For information and support services within the community.


Outreach Services: Available by appointment. Donations gratefully accepted for services provided.
Food Pantry Located at
Mascoma Area Senior Center
Grafton County Senior Citizens Council, Inc.
Serving Enfield, Canaan, Dorchester, Orange and Grafton residents by appointment.

1166 U.S. Route 4 , P.O. Box 210
Canaan, New Hampshire 03741
Phone: 603-523-4333 . Fax: 603-523-4334
Donations are gratefully appreciated.

Drop Boxes are located at the Library and the Senior Center. Food Pantry is open on Wednesdays.